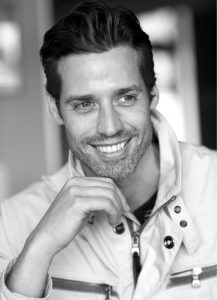 Andreas Ortner
Andreas C. Ortner of Innsbruck, Austria, has worked in the fashion industry for over twenty years. He started out as a photographer in 2005, when he bought his first camera (an analog Pentax), at a flea market in Brooklyn.
His imagination and ability to push boundaries in fashion photography provide emotional depth to his photographs, and his professionalism and perfectionism are known to his many clients such as Baldessarini, Holy Fashion Group, La Biosthetique, Bogner, Lacoste, My Theresa, Stylebob, Marks & Spencer, Net-A-Porter, My Best Brands, Cinque, Olsen and many more.
He has launched several exhibitions e.g. "UN HOMMAGE A LA PASSION" at the W Hotels all over Europe, and at the Art Basel in Miami.
His outstanding work has been published in many international fashion magazines including Harper's Bazaar, Vogue, Elle, Grazia, Cosmopolitan, Untitled, Love Paper, Le Mile and Marie Claire France, ELLE.